Harry Styles Splits his Pants in Front of Thousands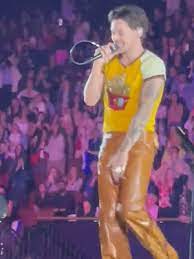 Harry Styles gives Jennifer Aniston and thousands of fans a little surprise at a sold-out concert on Jan. 26 concert at the Forum in Inglewood, California.
On January 26 it was an exciting day for Harry Styles concert goers but things took an even more exciting turn. 
Harry was playing a sold-out crowd at the Forum in Inglewood, California. It was just like every other concert, with thousands of fans and a few celebrities including Bad Bunny and Harry's childhood crush Jennifer Anniston. Styles' was rocking a custom Gucci look featuring a yellow/cream ringer T-shirt decorated with a cartoon french fry aplique paired with brown leather trousers. The look was completed with green sneakers. All was good until he was singing his hit song Music For a Sushi Restaurant and got down on one knee, it all went downhill from there, and his leather pants split wide open! 
Right after the incident, the "Golden" singer said "My trousers ripped. I feel I must apologize to a certain few of you right down in the front there. I mean, this is a family show." He picks a pride flag off the stage and wraps it around his waist and continues running around in the "skirt" until he gets a change of pants! This is a moment the singer definitely won't forget!
This is not the first time Styles has suffered a wardrobe malfunction, on December 13, 2022, While jamming out and jumping around during a performance of the rock-influenced song, "Kiwi," Harry's sequined jumpsuit ripped near his legs. And he again used a pride flag to cover up and continued with the show. The LGBTQ+ community has his back!
Harry celebrated his birthday on Wednesday, February 1, in Palm Springs, California, also concluding the American leg of love on tour. His birthday outfit was a pair of pink trousers covered with pink sequins and a sequin pink jack showing his moth tattoo-covered chest. He also wore a birthday hat while his band member and best friend Pauli brought him a birthday cake.