The Teal Album: What You Need To Know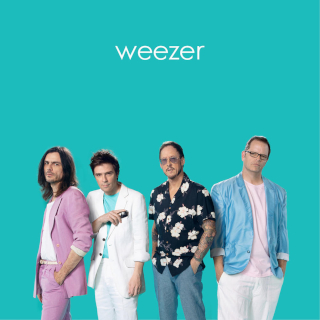 It is bad. That is what you need to know. The Teal Album is a cover album by the band Weezer. It exists as a hype up album for their Black Album coming out March 1. If this album is anywhere close to the Teal Album, than I have no excitement for the Black Album. Let us talk about that.
  Weezer's music is slowly becoming less and less Weezer and more and more cliche music with guitar. That is it. The White Album? It was alright, I really like it but it was incredibly straying from their original sound, and Pacific Daydream? Kinda terrible. Now this? Bad bad bad! When I tell you that their cover of "AFRICA" by TOTO is the best song on the ALBUM there is an ISSUE. (No hate on "Africa," but it isn't necessarily the best song to ever exist.)
  Weezer took what a friend of mine considered "Dad Songs" and gutted them. Weezer takes good sounding songs; "Sweet Dreams" by Eurythmics, "Everybody Wants to Rule the World" by Tears for Fears, and (one of the best songs to exist ever) "Mr Blue Sky" by Electric Light Orchestra; and they ruined them. There is a reason these songs are so good and continue to live on, and it is NOT because Rivers Cuomo can throw together some bad guitar and a whiny voice and make it good. These songs took effort and used instruments and time. The only reason that "Africa" is even a little bit good is because it sounds like the original without trumpets.
  I could live a happier, fuller life if this album did not exist. You can tell that it was slapped together to get money and try to regain Weezer's once extraordinary relevancy; yet, they have failed. I have heard my co-editor, Noah Keener, create a better cover of Africa by Toto by tapping his pencils on his desk.
  This album is not worth your time. If you want to hear good music, take the track list and listen to the original songs. I do not NEED a Weezer cover of "No Scrubs." Listen to the original. You do not NEED a Weezer cover of "Take on Me." Listen to the much better original song. This album is unneeded, and frankly does not fare well for future albums by Weezer.