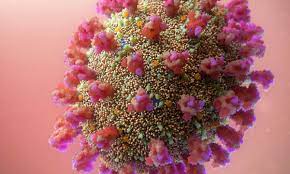 Creative Commons
"Coronaviruses are a large family of viruses that are common in people and many different species of animals" says The Commonwealth of Pennsylvania. This means that there are many viruses stemming from each other. SARS-CoV-2,short for Severe Acute Respiratory Syndrome Coronavirus 2, is the Coronavirus that causes COVID-19. Variant cases of COVID-19 have been reported all over the world. Let's talk.
B.1.1.7(mutations; N501Y, P681H, 69/70 deletion), B.1.351(mutations; K417N, E484K, N501Y), P.1 (mutated from; B.1.1.28. Mutations; K417T, E484K, N501Y) are all known as emerging Coronaviruses increasing in cases in multiple places. B.1.1.7 was first reported around the time of September 2020 in the UK later in December to be rising in cases in several other countries including the US. In January of 2021, scientists in the UK, with reported evidence,say that B.1.1.7 might be connected to increases of reported deaths,more than other variants,while earlier reports say that there is no evidence to suggest that it impacts the severity of the disease. B.1.135 was first reported in South Africa at Nelson Mandela Bay in October of 2020 around the beginning of the month. This variant was also reported in Zambia in December of 2020. This variant has been reported in other places outside South Africa and Zambia,including the United States. It's stated that one of the spike mutations of B.1.135 (E484K) could potentially affect the neutralization of mono and polyclonal antibodies.
P.1 was first reported in Japan on January 6th of 2021. It was found outside Tokyo in four people from Brazil during a screening at Haneda Airport. Many cases of P.1 and SARS-CoV-2 have been reported in Manaus Brazil. It's said that 42% of the population was infected with variant P.1 while 75% of the population was infected with SARS-CoV-2. The P.1 variant was reported in parts of the U.S at the end of January this year.
As it is clear, this pandemic isn't turning out as well as we wished, so please wear masks correctly and accordingly. Please stay watching for these signs of COVID-19 and the variants below and thanks for reading.
Symptoms:
– Fever or chills.
– Cough.
-Shortness of breath.
-Difficulty breathing.
– Ache in muscles.
-Loss of taste or smell.
-Sore throat.
-Runny nose.Bluish lips or face.
-Inability to stay awake or wake.
-Shaking.
– Pink eye.
-Loss of appetite.
-Nausea or vomiting.
-Diarrhea.
-New confusion.