Future Educator Club to Sell Candy-grams and Lollipops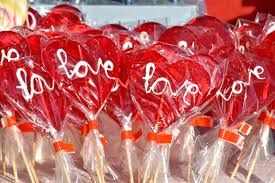 Future Educator Club will be selling candy grams and lollipops the week of 2/10-2/13 during lunches 4,6, and 8, and after school in the lobby until 3pm. 
   Lollipops are $.50 cents and candy grams are $1.00. The candy grams will be delivered to home rooms on Valentine's day. 
   The money $.25 of every lollipop sold will directly go to the Future Educator Club.
   The club is full of eager students ready to learn all about being a teacher, and the responsibilities that follow with that job. They shadow teachers that actually teach in the school district to see if they would like to persue that job. 
   The club also is in connection with a first grade class from an elementary school in Northeastern Pennsylvania. The students wrote each other letters to better the first graders writing abilities and the high schoolers abilities to connect with young children.