Kyle Larson and Christopher Bell Okay After Wild Dirt Track Crash.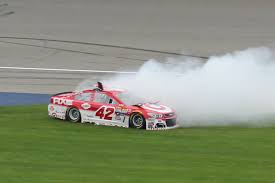 For Nascar stars Kyle Larson and Christopher Bell, there was no off season, as the two ventured to New Zealand in December for some indoor wingless racing. Larson started his New Zealand kick off good. He finished 2nd in his first heat and won his second. 
       Larson was running the cushion while running 3rd in the second United States vs New Zealand vs Australia test heat race. The car stepped out, and he lightly tagged the wall with his right rear; the car landed sideways and he was violently cast into an immediate set of barrel rolls. Larson rolled five times, making little contact with the track itself in the process.
        Bell joined Larson in the same dirt track division. Both drivers had qualified for the feature race. In a similar test race, Christopher Bell also rolled. Ironically, Bell also lost it in the same corner. He knocked a rut which turned him into the wall. Contact with the wall sent him into a barrel roll.
         Unfortunately, even though both drivers left the crash without serious injury, Larson left the crash with a black eye and bursted vein in the eye and both drivers were not able to make it out for the feature due to the damage to the cars.
About the Writer
Rayna Hess, Staff Writer
Rayna is a senior who enjoys writing in and outside of school. She also enjoys racing and singing.